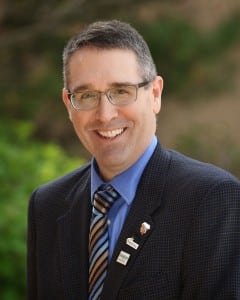 Harry Stark, MPA, CMS4S, RS was hired to serve as Tinker's Creek Watershed Partners first Executive Director in 2014. Mr. Stark's role is to oversee long-term planning, grant management, fiscal accountability and leading the Ohio Stormwater Conference.
Mr. Stark is an administrator for the City of Wadsworth which includes being the Assistant Director of Public Service, Parks Director and the Director of Economic Development. Mr. Stark has over twenty years of experience in administrative activities and multiple areas of expertise. With the City of Wadsworth, Mr. Stark is responsible for overseeing many programs, departments and activities for the City. He is knowledgeable in grant development and management, stormwater management, state and federal stream and wetlands regulations, Economic Development, Parks and Recreation, capital project oversight, project development, program development and oversight, and employee management and development.
With a background in public administration and project development and management, he is well versed in working with a variety of groups including planning commissions, steering committees, councils, local political groups, citizen groups and organizations, non-profit organizations, and other groups and has given many presentations at a variety of venues.
Mr. Stark also serves as the President of the Ohio Stormwater Association, Executive Director of the Annual Ohio Stormwater Conference, editorial board for Stormwater Solutions magazine, state of Ohio representative for Envirocert International, Board member of Wadsworth City Schools Business Advisory Committee, and a number of other volunteer activities.
He assisted in the initial development of the Tinker's Creek Watershed Partners in 2016. He has previously served as the President of Tinker's Creek Watershed Partners, Chair for the Northeast Ohio Watershed Council, Vice Chair of Envirocert's CMS4S Board of Directors, District Director for the Ohio Environmental Health Association, and member of Streetsboro Recreation and Preservation Committee and Master Plan Committee.
Mr. Stark has a Bachelor of Science in Biology from the University of South Florida, Masters in Public Administration from the University of Akron and is a 2012 graduate of Leadership Medina. He has received the Storm Water Professional of the Year from the Ohio Stormwater Association, Distinguished Service Award from the Water Management Association of Ohio, District Director Service Award from the Ohio Environmental Health Association, and Business Advocate of the Year from the Wadsworth Chamber of Commerce.