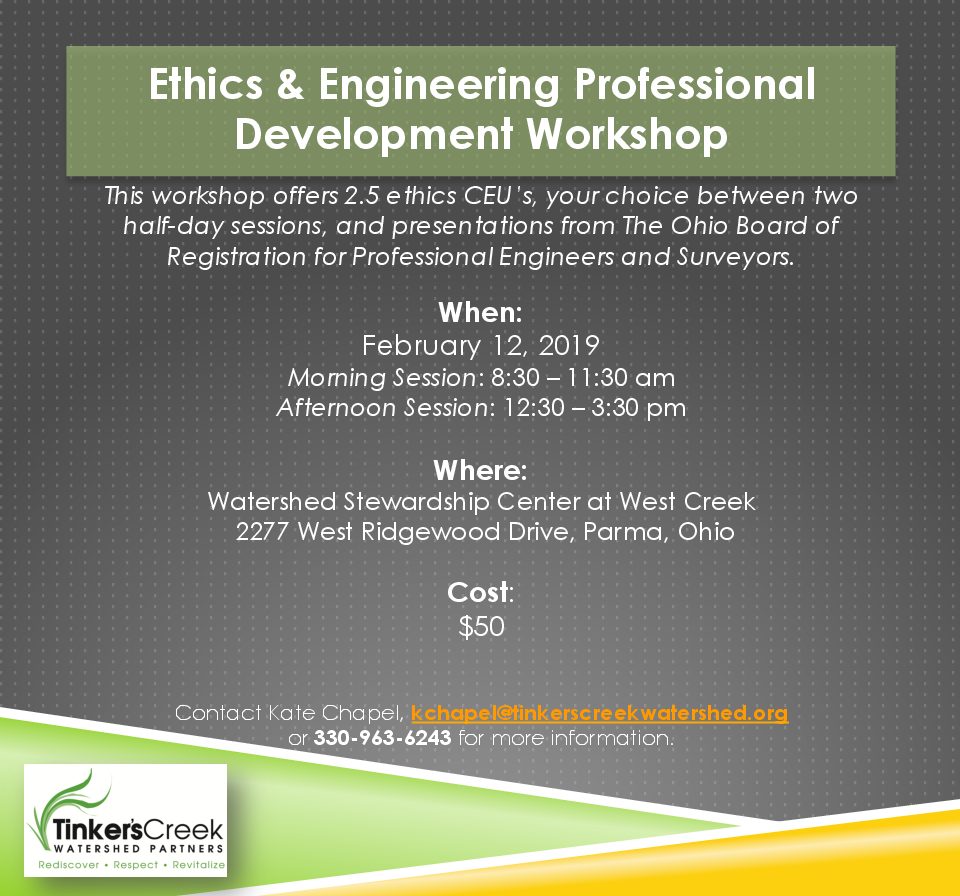 Northeast Ohio Regional Sewer District Customers Eligible for FREE Stormwater Consultations
Welcome to the 12th Annual Ohio Stormwater Conference!
The Premier Event in Ohio and one of the Largest Stormwater Conferences in the Country
The 2019 Ohio Stormwater Conference is an annual conference dedicated to advance the knowledge and understanding of comprehensive stormwater management for those dealing in all aspects of planning, design, implementation and regulatory compliance. This year's conference is being held May 8-10, 2019 at the Sharonville Convention Center located in Sharonville, Ohio. The conference will provide updates on environmental issues, new technologies, regulatory information and pollution prevention.
The Tinker's Creek Watershed Partners and the Ohio Stormwater Association, are looking forward to another great program with experts in the stormwater field sharing their knowledge, and experience.
If you attend only one stormwater conference in 2019, this is the one! 
Use the link here to sign-up, https://ohstormwaterconference.com/
TCWP Training Offerings
TCWP is offering training opportunities on watershed management practices for landowners, community professionals, and municipal workers. These trainings will help communities meet MS4 permit requirements. TCWP is an OEPA certified trainer for the following topics:
Bioretention and Rain Garden Implementation and Maintenance
Detention/Retention Basins Maintenance
Permeable Pavement Maintenance
Green Roof Implementation and Maintenance
Rainwater Harvesting Practices and Maintenance
Trees as SCM: Proper Selection, Planting, and Maintenance
Pollution Prevention/Good Housekeeping Overview
TCWP Awarded Funds for Stream Restoration
Tinker's Creek Watershed Partners (TCWP) was awarded a $191,500 Great Lakes Restoration grant from the Ohio Environmental Protection Agency and United States Environmental Protection Agency. Funds will be used to restore instream habitat to a historically channelized portion of Tinker's Creek.
Business Membership
Business Members receive recognition in all of the Tinker's Creek Watershed Partners newsletters and publications, and on our website. In addition, members are invited to participate in TCWP events. Membership in the Tinker's Creek Watershed Partners will assist your business or organization in being recognized as an active environmental steward.
READ MORE