Contact the NOWCorps Program Manager at

[email protected]

for more information or to submit a resume.
Scroll down to meet our 2019-2020 Members!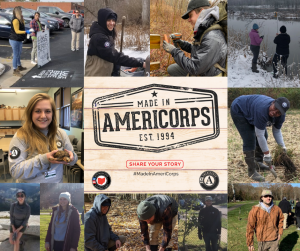 Colleen
Abigail
Andrew
Isaac
Abbey
Caitlin
Leticia
Kevin
Valerie
Jake
Jess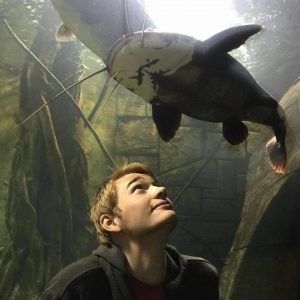 Madison
Be the Greater Good
Join AmeriCorps and you'll find your moment to inspire, build, teach, and support those who need it the most!

What is AmeriCorps?
AmeriCorps is a voluntary civil society program supported by the U.S. federal government, foundations, corporations, and other donors engaging adults in public service work with a goal of "helping others and meeting critical needs in the community." Members commit to full-time or part-time positions offered by a network of nonprofit community organizations and public agencies, to fulfill assignments in the fields of education, public safety, health care, and environmental protection. The program is often seen as a domestic Peace Corps. It employs more than 75,000 Americans in intensive service each year.
More Questions? Visit https://www.nationalservice.gov/programs/americorps/what-americorps
NOWCorps: Northern Ohio Watershed Corps

What is Tinker's Creek Watershed Partners NOWCorps program?
Together with our partners, Tinker's Creek Watershed Partners recognizes the importance of maintaining water quality throughout Northern Ohio. We also believe in educating the public and regional leaders to support behavioral changes that positively affect our water resources. The Northern Ohio Watershed Corps (NOWCorps) works with watershed groups, soil and water conservation districts, city and county government offices, and other conservation nonprofits to facilitate outreach, education, capacity building, environmental stewardship, and stormwater management. NOWCorps members will receive programmatic training in addition to site specific training. See member descriptions below for each partner's site specific training that will be provided.
While environmental stewardship is the major focus, the Northern Ohio Watershed Corps Program will focus on four major activities.
Stewardship: Improving water quality is the heart of the collective mission and being an environmental steward will help collect and gather the necessary data to do so.
Conservation: As a member you can engage in water quality testing and data collection, tree plantings, native plant installations, invasive vegetation removal, and more.
Education: Help assist our partners with program design, implementation and follow up. Certain programs will facilitate new relationships with schools, youth groups, public engagement groups, and volunteers.
Capacity Building: As a member you can assist our partners in concrete strategies for volunteer recruitment, program expansion and consistency among outreach. As a member you will obtain, improve, and retain the skills, knowledge, tools, equipment and other resources to be a true environmental steward!
How do I become an AmeriCorps Member?
First, create an AmeriCorps profile at https://my.americorps.gov/mp/recruit/registration.do and complete registration. From there, you can create your application and apply to any of our NOWCorps member listings!
Check out the links to our multiple host site partners below, and view their member descriptions to see which ones interest you!
Service Dates for NOWCorps: October 5, 2020 through September 30, 2021
What host sites and positions are available?
Chagrin River Watershed Partners | NOWCorps Watershed Steward
Cleveland Metroparks | 
Cuyahoga Soil and Water Conservation District | NOWCorps Steward and Coordinator
Erie Soil and Water Conservation District | 
Lake Soil and Water Conservation District | NOWCorps Resource Protection Technician
The Nature Conservancy | NOWCorps Restoration Crew Member
Tinker's Creek Watershed Partners | NOWCorps Capacity Builder
Western Reserve Land Conservancy | NOWCorps Stewardship Specialist