14th Watershed Festival
October 12, 2019 @ 12:00 pm

-

3:00 pm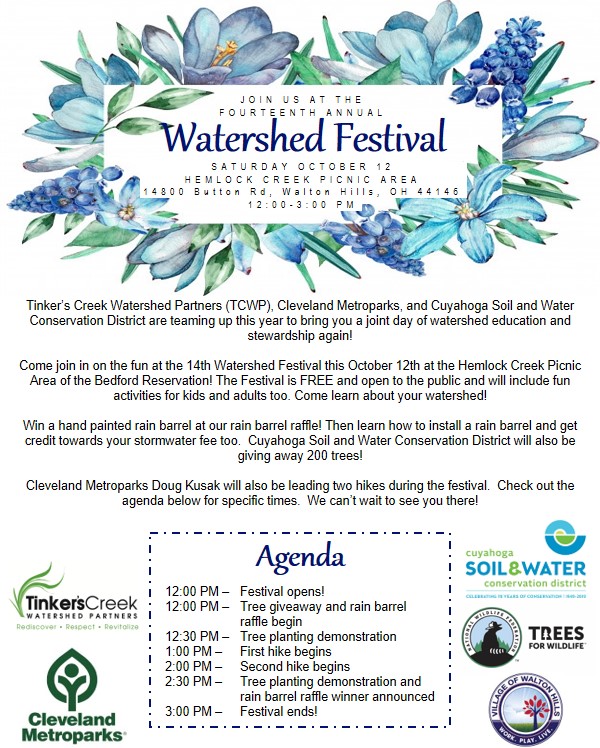 Tinker's Creek Watershed Partners (TCWP), the Cleveland Metroparks, and Cuyahoga Soil and Water Conservation District are teaming up this year to bring you a joint day of watershed education and stewardship again!
Come join in on the fun at the 14th Watershed Festival this October 12th at the Hemlock Creek Picnic Area of the Bedford Reservation! The Festival is FREE and open to the public and will include fun activities for kids and adults too. Learn about your watershed and what you can do to help protect your water resources!
See how a tree is correctly and efficiently planted during our tree planting demos. There will be 200 trees to giveaway, donated by Cuyahoga Soil and Water Conservation District, so don't miss out on your chance for free trees!
Win a hand painted rain barrel and installation kit at our rain barrel raffle! Tickets will be for sale until 2:30 PM, when we will announce the winner. 
Check out what TCWP is doing to help your community and how you can volunteer with them! Help TCWP employees test the water quality and see what organisms we can find in the stream. Stop by our macroinvertebrate station to check out some of your local stream inhabitants and learn more about how you can protect these species!
If the temperature is right, meet TCWP's newest ambassador animal, Tinker the Turtle! An Eastern Box Turtle who will be accompanied by a cute "make your own turtle" craft for all ages. 
Please see the list of events below, we hope to see you there!
12:00 PM – 3:00 PM : Visit Vendors & Activities for Kids
12:00 PM : Tree Giveaway & Rain Barrel Raffle Begins
12:30 PM : Tree Planting Demonstration
1:00 PM : First Hike Begins
2:00 PM : Second Hike Begins
2:30 PM : Tree Planting Demonstration & Announce Rain Barrel Raffle Winner